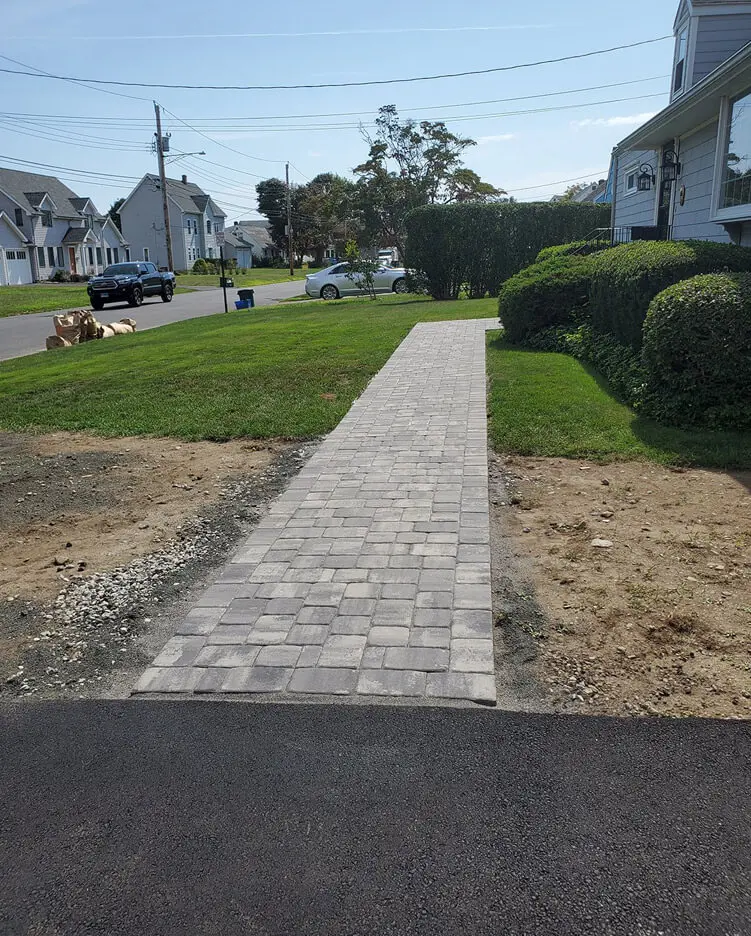 About
Driveway Sealing Call Frank
Driveway Sealing Call Frank was founded in 1998 by Frank Colacurcio Jr.
A member of the National Asphalt Pavement Association (NAPA), Frank has a wealth of knowledge and experience in all facets of the driveway and parking lot maintenance and attends yearly workshops and seminars to stay at the forefront of the industry.
We currently employ 15 professionals and are members of the 1-800-DRIVEWAY network, so no job is too big or too small.
As a local business, we believe strongly in and support our community, including:
St. James School, Our Lady of Grace Church, Sterling House Community Center, and the Costco & Hartford Children's Hospital Annual Charity Golf Tournament.
Frank was born and raised in Fairfield, CT, and currently resides in Stratford, CT, with his wife and three children.
Get Your Questions Answered
Regarding Our Asphalt Maintenance Services
Have a question about our services at Driveway Sealing Call Frank? We have answers. Read these FAQs and call today for more information!
Despite working in diverse environments, virtually all roofing contractors, industrial maintenance engineers, auto mechanics, and paving contractors agree that small repairs can frequently prevent major expenses in the future. They know that neglecting a repair allows additional damage to be done and that sometimes, this additional damage will result in the complete failure of the roof, machine, vehicle, or pavement. Timely repairs and conscientious preventive maintenance programs are often the difference between an asphalt pavement that requires a complete reconstruction in 10 years and one that lasts for more than 50 years without a major structural failure. To understand the importance of being proactive about your asphalt repairs, reviewing how paving contractors install asphalt pavement might be helpful.
Whether installing street, parking lot, or driveway paving, contractors cannot just spread a layer of asphalt over a patch of ground. They must grade the area and compact the soil, gravel, or stone that will serve as a supporting foundation. This foundation is critical to the longevity of the pavement. Over the course of its life, asphalt pavement will inevitably develop some cracks. If you do not repair these cracks, water will leak through them and destabilize the foundation. Without a stable, well-compacted, strong foundation, the pavement will crumble or subside, leading to potholes and extensive alligator cracking. Damages expand quickly, so in a relatively short time, your entire pavement can fail and require a complete reconstruction.
When they are asked to pick just one routine maintenance procedure that can help you extend the life of your asphalt pavement, most asphalt contractors choose seal coating. Parking lot and driveway seal coating can slow the progression of automotive fluids that leave asphalt pavement crumbly, soft, and more susceptible to tire damage. Seal coating contractors can also apply a sealant to running tracks, bike paths, sidewalks, and other asphalt pavements. Because seal coating refreshes the dark color of asphalt pavement, driveway sealing is an economical way to enhance the curb appeal of your property. Regardless of the type of pavement, one of seal coating's most valuable benefits is its ability to block ultraviolet radiation. The UV rays emitted by the sun rob asphalt pavement of its moisture, leaving it faded, brittle, and more vulnerable to damage.
When you protect your driveway paving, parking lot, or other asphalt pavement with seal coating, you can also ensure that an extremely critical repair is made at the same time. Asphalt seal coating contractors know that the pavement must be in good condition if the sealant is to offer any true benefit. Therefore, reputable seal coating contractors will look for any problems that they must correct before they apply a sealant. Crucially, this includes repairing cracks and potholes, and it normally includes removing any puddles of oil, gas, or other automotive fluids. Although some asphalt seal coating contractors charge a little more for major repairs or numerous puddles, the service is definitely worth the cost. For example, driveway seal coating that includes crack repairs and thorough cleaning can often triple the driveway's life expectancy compared to a similar driveway that does not receive timely crack repairs, cleanings, and seal coating.
At Driveway Sealing Call Frank, we specialize in asphalt maintenance and repair of both concrete and asphalt pavements. We perform work for commercial and residential property owners throughout most of Connecticut. Our services include commercial asphalt seal coating, driveway seal coating, asphalt crack repair, pothole repair, curbing, infrared asphalt repair, parking lot striping, snow removal, and concrete installation and repair. During our 20 years in business, we have built a reputation for delivering exceptional work at competitive prices. You can submit our online form to request a free quote, or you can call us at +1 (203) 378-0080 or 1-800-DRIVEWAY.
Asphalt paving may be durable, but without a little help from you, it can age prematurely. A comprehensive program of routine asphalt maintenance can help you get the longest life from your pavement. You want to ensure that the asphalt maintenance contractor, seal coating professional, or paving contractor you hire is reputable, experienced, and dependable, so always ask for and verify references. Here are the most common procedures needed to ensure that your asphalt pavement will survive the winter relatively unscathed.
Have your asphalt seal coating or paving contractor inspect your pavement before cold weather arrives and again in the spring.
Keep your pavement clean. Establish a schedule to remove piles of debris, including leaves, trash, and dirt. Although you should clean your pavement regularly, cold weather can exacerbate the damage that debris can inflict on asphalt pavement. Some paving companies offer cleaning services for parking lots and other large expanses of pavement.
Hire a reputable asphalt paving company to repair any breaks in your pavement. It is critical to repair cracks, alligatored asphalt, and potholes before freezing temperatures arrive. Water enters through these breaks and becomes trapped. In its liquid state, it can damage the foundation supporting the pavement, but when the water freezes, damage to both the foundation and the pavement can dramatically increase.
Have a professional check your seal coating. If necessary, hire a seal coating contractor to apply fresh sealant. Many people consider sealants important protection against the sun's rays during the summer, but sealants are also critical during the winter. A quality sealant helps prevent water infiltration, protects against corrosive chemicals found in some deicing products, and helps block the penetration of automotive fluids that can soften asphalt pavement.
Most asphalt companies that offer seal coating also offer asphalt repairs; they know that sealants cannot do their job if there are breaks in the surface of the pavement or if the sealant is applied to a dirty pavement. Therefore, a credible seal coating professional may be able to get your pavement ready for winter quite economically. However, you should not delay too long. Once temperatures begin to drop below 50 degrees, it may not be possible to apply seal coating. If you find yourself in this situation, ask about infrared asphalt repairs or crack fillers so that you can postpone seal coating until the spring.
At Driveway Sealing Call Frank, we would be happy to evaluate your pavement and advise on the appropriate actions you should take to prepare for winter weather. We specialize in repairing and maintaining asphalt and concrete pavement for both residential and commercial properties. Our services include seal coating, crack repair, snow removal, infrared asphalt repair, pothole repair, parking lot striping, asphalt paving, and concrete installation. We have more than 20 years of industry experience and have earned a reputation for superior workmanship, exemplary customer service, and affordable rates. We offer free quotes, so request yours today by completing our online form or calling us at either 1-800-DRIVEWAY or +1 (203) 378-0080.
When it comes to asphalt pavement, water is a formidable enemy. The pavement is supported by a compacted foundation. If this foundation becomes unstable, potholes, low spots, and large cracks can develop. Water penetration is the leading cause of foundation instability. The water flows through the cracks and erodes the foundation. When the trapped water freezes, it will expand, causing additional damage to the foundation as well as the pavement.
Automotive fluids can also contribute to the deterioration of asphalt pavement. Oil, gas, brake fluid, and other automotive liquids will break down the binder that holds the pavement together. The pavement will become soft, crumbly, and easily dislodged. Cracks can allow automotive fluids to penetrate beyond the surface of the pavement and the seal coating that helps slow their penetration.
Having a professional apply a crack sealer is the best way to protect against the penetration of water and automotive fluids. Crack sealing is a durable repair method that can be used on most cracks in asphalt pavement. However, it should be noted that crack sealing cannot save pavement that has developed alligator cracking. Alligator cracking usually indicates a damaged foundation, so removing and replacing the affected area is normally the only way to repair the damage.
Many people use the two terms interchangeably, but they are not the same. A crack sealer is a flexible, rubberized material that expands and contracts with the pavement. An asphalt crack filler is a non-rubberized material that lacks the flexibility of a crack sealer. When the pavement expands or contracts, the crack filler may separate from the walls of the crack, leaving an opening that is exposed to the elements.
Another crucial difference between filling and sealing is the application method. Filling typically involves introducing the asphalt crack filler into the crack only. Sealing usually involves filling the crack as well as capping at the surface level.
Crack filling is unsuitable for cracks that are expanding or widening. Asphalt professionals refer to these as working or active cracks. Crack filler is usually reserved for the edge, block, or joint cracks. For most horizontal and longitudinal cracks, crack sealers normally deliver better results. However, only an experienced asphalt contractor can make a proper assessment to determine which method should be used on a specific pavement.
Asphalt contractors recommend including a procedure for removing surface debris in your routine asphalt maintenance program. Use a broom or a leaf blower for driveways and other small areas. For parking lot maintenance and cleaning, contact one of the paving contractors in your area. Paving contractors often use large vacuum machines for this purpose.
The goal is to remove dirt, vegetation, sand, and rocks from the surface as well as from any cracks that are present. Vacuum or gather loose vegetation, trash, and other debris; dispose of it in a closed receptacle so that it does not blowback onto the asphalt surface. Rinse the pavement with a hose. Check the condition of the seal coating after the asphalt surface is dry.
Oil and other vehicle fluids that are allowed to remain on your pavement can cause serious damage in a relatively short time. Paving contractors suggest removing these as quickly as possible. The amount of time you will have to clean these spills will depend on the condition of your seal coating as well as the condition of your pavement. Asphalt seal coating will slow the rate at which automotive fluids reach the pavement, but automotive fluids will eat through seal coating in a matter of months or even weeks. Once these fluids have penetrated the seal coating, they will destroy the binder holding the asphalt pavement together. The affected pavement will become soft and start to crumble. There are numerous products and methods that can be used to remove automotive fluids, but it is best to ask your contractor for recommendations that take the size and condition of your pavement into consideration.
Imagine three pavements in need of driveway seal coating that are each 20 feet wide and 200 feet long. The first pavement is on relatively flat ground and follows a straight path. The second pavement is on a steep slope and has a single, gentle curve. The third pavement is on slightly elevated ground, but it has several sharp curves along its route. The first pavement will typically cost less to sealcoat than the other two. The complexities of the second and third pavements mean that the job will be more complicated and will probably require additional time and personnel. Shrubs, hedges, trees, fences, walls, and other fixed objects abutting the pavement can also increase complications and affect the costs.
Homeowners sometimes place special requirements on driveway seal coating contractors, but commercial paving contractors typically face more stringent requirements. For example, the property manager responsible for an office park may insist that the work be performed on holiday to avoid disrupting tenants and their customers. A shopping mall may need the work to be performed one small section at a time. A school may have a narrow window between semesters to complete the work.
Special requirements can increase costs. Asphalt contractors have a cost factor that they refer to as mobilization expenses. This is the cost of transporting equipment, materials, and crew members to the job. The more times the contractor must mobilize, the more the job will cost. If contractors must pay their employees overtime or premium pay for working holidays or extended hours, this can also increase the cost of the job.
The right contractor can make the difference between an exceptional seal coating job and a sealant application that fails within weeks. Here are some tips to help you choose the best contractor for your specific needs.
Not all driveway paving contractors offer seal coating, and not all driveway seal coating handles commercial jobs. When you call potential contractors, be specific about your property type and let them know if you are certain that repairs will be needed. If the contractor cannot handle the work you need, ask him to recommend a reputable contractor who can help you.
 Be wary of driveway contractors who knock on your door, tell you that they have sealant leftover from a neighbor's job, and offer to sealcoat your driveway for a ridiculously low price. There is virtually no chance that this is a legitimate contractor.
When comparing quotes, make sure that you are comparing apples and apples. There are several types of sealants, aggregates, and additives that can be used in a seal coating mix. Reputable contractors will supply you with the name of the sealant as well as the types of aggregates and additives to be used.
If you need an exceptional seal coating job, contact us. Driveway Sealing Call Frank has been seal coating driveways, parking lots, and other types of asphalt pavement for more than 20 years. We also offer asphalt repairs, parking lot striping, asphalt paving, infrared asphalt repair, and concrete work. We serve most towns in Connecticut, including Fairfield, Greenwich, Milford, New Canaan, and West Haven. We are known for our outstanding workmanship and high level of customer service. For a free estimate, complete the online quote request or call 1-800-DRIVEWAY or +1 (203) 378-0080.
There are certain practices that trustworthy asphalt contractors share. Although not all contractors will follow every practice on every job, most of them will follow several of the following practices whenever they are estimating, quoting, or completing a job.
Trustworthy paving companies treat their customers with respect. They will not fail to keep a scheduled appointment without notifying you, display annoyance if you ask a question, or ignore your calls.
Trustworthy contractors will not pressure you to sign a contract before you are ready. They will understand that you may need time to solicit other quotes or review their proposal before you commit.
Trustworthy contractors will happily supply you with a list of references. They will give you the contact information for customers for whom they have provided work as well as the physical location of the work.
Trustworthy asphalt companies carry workers' compensation and liability insurance. They will not be offended if you ask for proof of coverage.
Trustworthy contractors are willing to discuss their plans to handle traffic control, their experience, the level of experience their crew members have, the type of equipment they possess, and how they maintain their equipment.
Trustworthy contractors will explain why they prefer certain materials for your job. They know how to select the best materials for specific needs as well as the benefits and disadvantages of each material type.
Trustworthy contractors stand behind their work. They will offer some type of warranty on their workmanship; this is typically between one and two years and is separate from the manufacturer's warranty on the product.
Trustworthy driveway paving contractors will evaluate your entire site. If they identify drainage problems, unstable soil, or other issues, they will bring the problems to your attention.
Trustworthy contractors will not try to sell you more than you need. For example, if the only thing wrong with your pavement is that its color has faded to a dingy gray, they will not try to convince you that you need to install an overlay if a seal coating job might do the trick.
Trustworthy asphalt paving contractors want you to be comfortable with them and their plans. They will want to make sure that you understand the terminology, the logic behind what they are proposing, and their planned work schedule.
Trustworthy contractors are not afraid to put everything in writing. They will give you a written contract that includes all details about your project.
If you need a trustworthy asphalt contractor, contact Driveway Sealing Call Frank. We offer an extensive list of services, including asphalt striping, seal coating, asphalt crack sealing, asphalt paving, infrared asphalt pothole repair, and concrete installation, maintenance, and repair. We have established an exemplary reputation by delivering exceptional craftsmanship at competitive prices. You can call +1 (203) 378-0080 or 1-800-DRIVEWAY to request a free estimate, or you can send in the online request form.
Guidelines issued by sealant manufacturers recommend that seal coating not be applied if the temperature is over 90 degrees Fahrenheit. However, this does not mean that professional seal coating contractors cannot apply sealant successfully when the temperature is much higher than the manufacturer's recommendation. There are adjustments that your seal coating contractor can make to ensure quality results, but there are definitely a few challenges involved. Since the ideal temperature for seal coating is 70 degrees Fahrenheit, once the temperature rises above that point, asphalt seal coating contractors must carefully evaluate the other critical factors for success.
Based on the four factors that play a role in the seal coating process, it might seem that it could never be too hot to apply sealant. However, extreme heat can play havoc with sealant applications unless your seal coating contractor knows how to compensate for the heat.
When sealant is applied to extremely hot pavement, the sealant can dry virtually on contact. Unless the liquid sealant has time to penetrate the pavement's pores, a strong bond cannot form.
The surface layer can also dry too quickly. If it does, it can trap wet sealant beneath. The trapped sealant will find it difficult or impossible to evaporate its moisture.
Whether the top or bottom layer dries too quickly, the seal coating will not last as it should. Its surface will be too weak to withstand traffic so that the sealant may crack, tires on vehicles may scar the finish, tracking may occur, or the sealant could literally be stripped completely from the pavement.
Asphalt seal coating is a remarkably effective way to protect asphalt pavement against premature deterioration. A properly applied sealant can block UV rays, restore the color of a faded pavement and help prevent softening of the pavement caused by the penetration of petroleum-based products. However, if the seal coating mix is of poor quality, the job will not last very long. One method that disreputable contractors employ to dupe their customers is the exclusion of aggregates in the sealant mix.
To be blunt, the issue is usually money. First of all, the types of aggregates suitable for use in a seal coating mix are not cheap. They also reduce the amount of pavement that can be coated per gallon. Shady contractors realize that most customers will not know that the mix contains no aggregates, and since they plan to be far away before the seal coating fails prematurely, they opt to maximize their profits.
Another issue related to money is the cost of a suitable seal coating machine. These machines have a pump to agitate the mix and keep the aggregates properly distributed. At the cost of $20,000 or more, most gypsy contractors cannot afford one of these machines. However, if they think that the customer might know that an aggregate should be added to the mix, they may haul out a large drum, dump in a bag of sand and stir the mix a time or two by hand. Within minutes, whatever aggregate they added will fall out of the mix and accumulate on the bottom of the drum. This will not help the quality of the work, but the contractor may use it to justify an additional charge for his work.
Occasionally, unscrupulous contractors may boast that their mix contains aggregates — and there may indeed be some particulate matter included. However, it is not likely to be silica sand or boiler slag. They will choose the cheapest material to convince customers that aggregates are in the mix. Unfortunately, the materials they choose are usually dirty, contaminated, improperly sized, or otherwise completely unsuitable for seal coating.
Based on the four factors that play a role in the seal coating process, it might seem that it could never be too hot to apply sealant. However, extreme heat can play havoc with sealant applications unless your seal coating contractor knows how to compensate for the heat.
When sealant is applied to extremely hot pavement, the sealant can dry virtually on contact. Unless the liquid sealant has time to penetrate the pavement's pores, a strong bond cannot form.
The surface layer can also dry too quickly. If it does, it can trap wet sealant beneath. The trapped sealant will find it difficult or impossible to evaporate its moisture.
Whether the top or bottom layer dries too quickly, the seal coating will not last as it should. Its surface will be too weak to withstand traffic so that the sealant may crack, tires on vehicles may scar the finish, tracking may occur, or the sealant could literally be stripped completely from the pavement.
Potholes are an indication that the asphalt has broken down to the point that it can no longer support weight in that area. They are usually the result of water seeping beneath the pavement through a crack left open to the weather. Occasionally, potholes result from heavier traffic on the pavement than the surface was meant to handle, such as heavy trucks driving on a parking lot designed for passenger vehicles only. Unless repaired promptly, potholes can contribute to additional damage that has the potential to destroy the entire paved surface.
The short answer is that there is nothing you can do about them. Trying to remove them will probably do more harm than good. Unless there are other signs of damage, ignore the tire scuffs. As more traffic uses the pavement and more time passes, the scuff marks will simply disappear. Typically, it will be impossible to see them in less than a year, and they often disappear in just a few months.
To understand why infrared paving is an ideal choice for repairing potholes, it might be helpful to review how traditional repairs are typically made. In most cases, the contractor will remove the damaged area by cutting it out with a saw before installing new asphalt. This method leaves a seam where the new asphalt meets the existing pavement, and this seam is a weak point that could fail, allowing water penetration to occur. Furthermore, if the weather is quite cold, the contractor might have to resort to a temporary patch using a cold-mix material, requiring a second repair once conditions permit. Infrared paving eliminates cold seams and can be performed in cooler weather than most hot-mix repairs. In fact, infrared paving can sometimes be performed in the middle of winter in the Connecticut area.
Infrared technology uses an infrared heater to soften the area needing repair as well as a small part of the surrounding pavement. Once the area has been softened enough, the asphalt is worked, and new asphalt is mixed in if it is needed. The repaired area is seamlessly fused to the existing pavement for a strong, durable repair that is often virtually invisible.
Infrared technology can be used for more than just repairing potholes, however. It can be used to eliminate low spots in the pavement that allow water to collect and remain long after it has rained or snow has melted. Infrared technology can be used to make subtle adjustments to the pavement's drainage, repair areas softened by automotive fluids, install thermoplastic markings, or level areas that pose tripping hazards. However, infrared repair may not be suitable if the supporting foundation must be repaired or replaced.
Underneath your asphalt pavement lies its foundation. The foundation is what gives your pavement the strength to support traffic and the flexibility to remain resilient when under load or subjected to the freeze/thaw cycle. Cracks provide a way for water to reach the foundation and damage it. The foundation becomes eroded and unstable, which in turn causes the pavement to develop potholes, alligator cracking, and low spots. Once the foundation has been damaged, the only option is to remove the pavement, repair the foundation and repave. Crack filling is much more economical and far less disruptive.
Ideally, cracks should be filled as soon as they are found. At the minimum, the crack filling should be performed annually before the arrival of winter; cold temperatures can accelerate the growth of cracks, and the possibility also exists that the edge of a snowplow blade could catch on a crack and tear out a chunk of pavement. In addition, the crack filling should always be performed before fresh seal coating is applied.
The crack filling works best on cracks that run in a straight line. Typically, filling is not possible for alligator cracks; alligatored asphalt normally indicates that the base is unstable, so removal and replacement are needed to make repairs to the base. Your contractor will need to evaluate the cracks in your pavement to determine whether filing is the best repair method.
Like most maintenance procedures, preparation is the key to a successful job. Your contractor will thoroughly clean each crack to remove gravel, dirt, or grass. Routers, wire brushes, and heat lances are some of the tools commonly used for preparing cracks. After the cleaning, compressed air may be used to ensure that the area is completely dry and to remove any dust that might have accumulated during the cleaning process.
Based on the crack's width and depth, as well as whether the crack is active or inactive, the contractor will choose a filler. Fillers are available in a variety of both hot-pour and cold-pour formulas, but different formulas are intended for different situations. For example, a small, inactive crack on lightly traveled pavement might require a cold-pour filler, while an active crack on a busy highway might need a hot-pour filler.
The contractor will place the filler inside the prepared crack and finish the top. Some cracks are filled so that the top of the filler is the same height as the pavement, but others may be slightly below the pavement's surface or slightly above it.
The length of time before traffic can be allowed on the filled crack depends on the severity of the crack and the type of filler used. However, the wait is typically quite brief. Your contractor will let you know when you can reopen the area.
Many people who have seen asphalt pavement soon after its installation praise the pavement's smooth finish and depth of color. As the years pass, however, the pavement can begin to show signs of damage from the weather or traffic. If the pavement has been protected by seal coating and received timely repairs, the evidence of aging may not become noticeable for 10 or 15 years. However, if repairs have been ignored and seal coating has not been maintained, the pavement may appear antiquated within five or six years. Regardless of the pavement's chronological age and maintenance history, the time will come when the property owner decides that something needs to be done. At this point, the question of whether "something" means paving or seal coating often arises.